April saw job vacancies in the UK rise by 19.8% on last year. This boost in vacancies, alongside the increased number of people already in employment, has also led to the number of jobseekers per vacancy falling to an average of 1.39 – a 38% decrease since April 2013. This means that job seekers are faced with more jobs and less competition.

Less Job Competition
This report by Adzuna makes it clear that the British job market is looking healthier than it has in a long time, with the Guardian also reporting that unemployment is at the lowest it has been since February 2009.
Salaries are on the rise too for the first time in seven months, climbing an average of 1.2% month-on-month. Andrew Hunter, co-founder of Adzuna, explains: "Real wages have been falling consistently since the recession. But now they are beginning to claw their way back upwards, sped along by declining competition between jobseekers, which is encouraging employees to raise salary stakes to attract the best staff."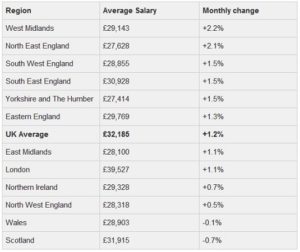 Improvements in Salaries
With candidates having the luxury of choice again, it's time for employers to start working harder to lure them in. The job market grew stagnant during the recession, while people were preserving their job security rather than looking to actively progress their careers. Now, though, we are seeing more movement – which is good for both the companies who get fresh new talent in, and for candidates who get a new challenge with a different employer.
The increase in employment levels is attributed to a certain extent to the rise in self-employment, which currently sits at almost 4.6 million people in the UK – the highest number since the 1970s. Self-employed people have an average salary of around 40% less than their employed counterparts – but if you're a self-employed person who would like to earn more, we can help you find freelance work with very competitive rates.